back
05.12.2012
HAVAIANAS IN RIO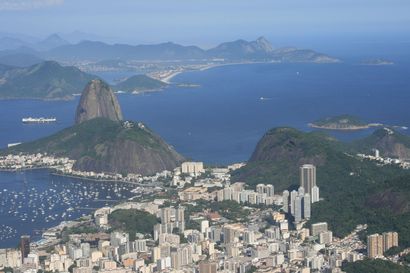 Flip-flop, flip-flop, flip-flop… This is the sound you will hear on the streets in Rio de Janeiro because everyone – literally EVERYONE! – wears Havaianas. Why? Because they are trendy and quite comfortable in the weather here.
Havaianas is the most fashionable brand of flip-flops in Brazil. It's funny to see so many people wearing the same type of shoes on the streets. Of course, the colors are different, but still. In Warsaw, if you take a look, you will find quite a variety of shoes people wear outside: high-heels, sneakers, boots, sandals, suede-shoes, tennis-shoes etc. and a maybe a few flip-flops in the summer. But here – just Havaianas.
Rio de Janeiro is a very busy city. It has over 11 million inhabitants (counting the city and suburbs) and it seems that almost as many busses. There is quite a variety of things to see and experience here. A beautiful (and very famous) beach Copacabana, with its over 4 km long, sandy coast. The two most popular tourist attractions: the Sugar Loaf and the monument of Chris Redeemer – both with a great panoramic view on the city, which you can also admire when paragliding. The nightlife is told to be the best in Brazil with clubs on each corner where samba music is played live (also during the non-carnival season). Just to name a few of the numerous attractions. Apart from the key attractions, we've enjoyed a live concert of a popular Trio Madeira Brazil that played a combination of Brazilian traditional music and their own compositions.
Within the city border there are 700 favelas – the poor neighborhoods – where it's estimated that over 1,5 million people live on a very small area. Estimated, because exactly nobody knows. The houses in favelas are built one on the other, usually without any supervision from the construction security perspective. Interesting is that despite the fact that it is a poor neighborhood, you'll not find any beggars there nor people sleeping on the streets. Yet, within the inside labyrinths you'll find a bakery, a hairdresser, a cosmetic salon where manicure and pedicure is offered, or even a fruit-and-vegetable store. Of course, those places will not change the favela into a wealthy city but they seem to make the life a bit easier.
You can visit favelas as a tourist but only with a guide. Anywhere you find information about those neighborhoods you'll also learn that going there on your own is really dangerous. In spite of pacification process that began a few years ago favelas are still run and 'governed' by gangs. Being there as a non-local and on your own is suspicious. It can, for example, turn out that you're a reporter. They don't like reporters there. It's good to walk around favelas with a guide from an organization that helps them. One of such is 'Be A Local' which donates part of the money they receive from tourists to the Children Day Care Center in one of the favela.
We spent only a few days in Rio. When I think about it why we rushed so much, I realize that it's because this is how we've been used to traveling on our 2- or 3-week holidays. In order to see as much as possible we've always travelled fast. Now we have one year, but the old habits stayed. We'll need to change them!