back
26.01.2013
HEIGH-HO! HEIGH-HO! IT'S OFF TO WORK WE GO!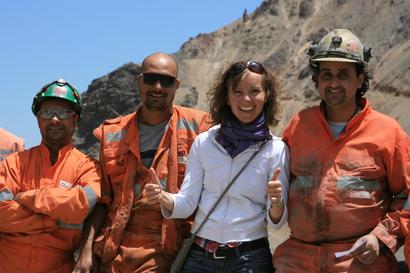 For many years weddings had been one of the key attractions taking place in Sewell, a small mining town located in the heart of Chilean Andes. The majority of ceremonies happened during winter because the scenery looked much more beautiful on the wedding pictures when it was covered with snow. To make the event a bit more colorful the rice thrown at the newlyweds was dyed in different colours.
The town itself was created above the mine in 1915 by Braden Cooper Company to house workers of this world's largest underground cooper mine at that time. As it was an American enterprise, a separate sector for US miners with a fence around and guards was created within the borders of the town. It's easy to imagine that this had not stimulated integration between the Chilean and American miners. However, when I asked our guide (whose father worked in Sewell for over 35 years) whether it caused any tensions among the workers he explained that it was not the case. In such an industrial town as Sewell, it was the hierarchy in the company and the mining experience that were more important than the country or part of town a miner came from. A bit like in the army.
Coming back to social events. Apart from weddings and other catholic ceremonies there were movie projections, dancing evenings and bowling competitions that made the life of 15 000 miners, who lived in this uninviting town in the middle of nowhere, a little bit more pleasant. Some of the workers lived there together with their families but the majority of inhabitants were single men. For that reason it was forbidden to publicly show affection between men and women not to cause frustration among the ones less successful in their love life.
Currently Sewell Mining Town is abandoned. Last miners left its grounds in 1987 and moved to bigger cities nearby to live together with their families. The town has being renovated to restore its original character ever since it was put on the UNESCO World Heritage list in 2006. However, the mine is still working and cooper is still extracted and therefore it's possible to enter the town only on weekends and only with a tour agency (we went with VTS).
We are not engineers and we don't know too much about cooper mines or any other industrial aspects of Chile, but Sewell was an extraordinary place to visit. For me the most interesting was to learn how much of our everyday life depends on cooper and that Chile is by far the biggest producer of this raw material in the world.