back
06.01.2013
TOWERS IN THE CLOUD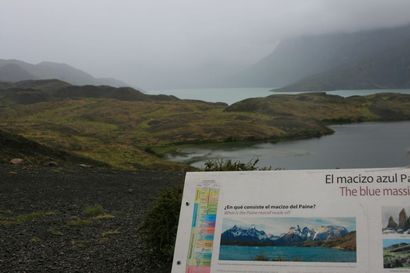 Torres del Paine - a beautiful view in the clouds.
So far we've had good luck with the weather. The sun was usually shining during the day, the rain was coming at nights and the clouds occurred when we were going through the country on the bus. Unfortunately this time it was different.
Before going to Torres del Paine National Park in Chile (torres means towers) we did research as usual. We've surfed the Internet, we've talked to people who had already been there, we've verified all possible ways to get there to spend one full day in the park, and we've even checked the weather forecast. All was well prepared.
The trip started early in the morning. The pick-up ride came on time and it was a comfortable 4x4 big truck. The guide spoke good English, he was nice, knowledgeable (and handsome). There was no queue on the border so it took us only 15 minutes to enter Chile. So far all was perfect. Yet, as soon as we crossed the Chilean border we saw heavy clouds approaching us from the distance. It turned cold, windy and later it started to rain heavily…
Yes, this post is about the weather but not because I've ran out of ideas for writing, but because it was the weather that totally spoiled our trip. We drove around in the truck to the most picturesque places in the whole park, but all we could see was clouds and rain. We had a nice trekking planed but only one American girl decided to walk on the trail and I bet it was only because of the guides' personal charm.
I attach some photos of what we have seen. Well, maybe we'll come back some day!