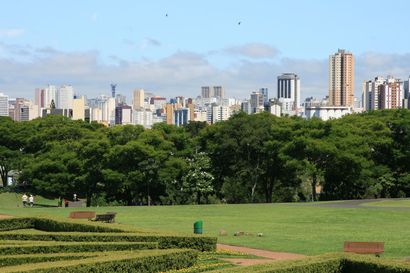 There isn't much written about Curitiba in the guides so not too many tourists get there. Probably, if it wasn't for our plan to visit friends we wouldn't go there either. So, we did and we had a really good time! Vivian, Myrian, Ricardo, Bill – big thanks to all of you! Obrigado!
The city welcomed us with a Christmas Show, which was performed on the streets downtown. From what we've learnt this show has been presented to the public each December for over 15 years now. It is very much in the Christmas spirit with little children dressed up in Christmas-designed costumes, singing carols (both Brazilian and international ones) while standing in the open windows of an old bank building. The building itself is lightened-up with thousands of colorful lights and at the end sets of fireworks are shot in the air from its roof. I must admit that it was quite a funny experience to sing Jingle Bells with 30 degrees Celsius in the air!
If you like modern architecture you'll like the Curitiba's Museo Oscar Niemeyer (who died last week at the age of 105 years!). The building itself is already interesting with its key element inspired by the shape of the Araucaria (candelabra) tree – a symbol of the Parana state. Inside there are permanent exhibitions presenting the life and work of Oscar Niemeyer as well as models of buildings and constructions created by the architect himself – with the Cathedral in Brasilia being one of the most well-known by the public. There are also quite a few temporary exhibitions of both classic and modern art. When we were there Edgar Degas' sculptures with the most famous Little-Fourteen-Year-Old Dancer were presented at one floor along with examples of modern home design exhibited on another.
The surroundings of Curitiba have an offer for more adventurous travelers. In the town of Morretes, which you can reach by taking a 3-hour ride on an old train, you can have fun rafting. A hint I can give is to take this train-trip on a nice cloudless weather. Otherwise you won't see too much on the way. Yes, unfortunately this was our case.
Those who like samba and good food will definitely enjoy the night life in the city. I am more a salsa dancer, so it was not at all easy to keep up with the locals who moved their feet VERY fast in the rythm of samba music. But it was fun watching them watching us – obviously tourists and amateurs.